Matildas and Olympique Lyonnais defender Ellie Carpenter has labelled her ACL injury "a blessing in disguise" as she prepares to take on Sam Kerr's Chelsea in tomorrow morning's UEFA Women's Champions League quarter-final.
It will be the 22-year-old's first UWCL match since she injured her knee in the final of the same competition last May, twisting awkwardly in the grass less than 15 minutes into the match before being stretchered off in tears.
Lyon went on to win the final against Barcelona and extend their record as the most decorated European women's club in history. They're now looking to repeat the feat, starting with a first-leg quarter-final match against Sam Kerr's Chelsea in France on Thursday.
Speaking to Forbes, Carpenter said her ACL injury was an opportunity to take a break from football altogether, having had few opportunities to rest since bursting onto the scene as a 15-year-old with the Matildas.
"Honestly, I think it was the best thing that's happened to me," she told Forbes.
"I really needed this break. I was really fatigued; I've played a lot — a lot — of football in the last year-and-a-half. I was just on the verge of burnt-out, really.
"The injury came and obviously it was disappointing, but at the same time, it was the perfect time for me to reset, get stronger, have a rest, have an off-season that I never really have had.
"I think I really, really needed it and I think I'm better from it. I'm more refreshed. I feel better on the pitch than ever before. As much as I never want a long-term injury, I think it was a blessing in disguise."
Carpenter's fitness is likely music to the ears of Matildas head coach Tony Gustavsson, with the 2023 Women's World Cup now just four months away and an injury to fellow full-back Steph Catley, which kept her out of Arsenal's loss to Bayern Munich on Wednesday morning, to contend with ahead of the April international window.
The Matildas are set to play a two-match friendly series against Scotland and reigning European Champions England in London on the 7th and 12th of April respectively.
Over 22,000 tickets have already been sold for Lyon's UWCL clash against Chelsea, with extra seating bays opened over the weekend due to the high demand. Overnight, Italian club Roma set a new attendance record for a domestic women's club game when 39,454 fans watched them go down 1-0 to Barcelona, while 20,000 turned out to watch Bayern's 1-0 win over Arsenal.
The match will be important preparation for Carpenter, who hasn't played for the national team since her injury, with the defender likely to face Matildas skipper Sam Kerr, Norway winger Guro Reiten, and Lionesses attacker Lauren James at various points throughout the match.
"I obviously love coming up against great players," she said.
"[Reiten] has a great left foot. Obviously her and Sam Kerr up top, it's a great striking force.
"Sam, for me, is one of the best strikers in the world. She's fast, she can score really at any moment. She's very dangerous. So to keep her off the ball as much as possible [and] stop her runs in behind, I think will be crucial."
Carpenter has a particular point to prove in Europe's most prestigious competition. While she's the only Australian to have two Champions League medals to her name, she hasn't played more than 15 minutes across the two finals Lyon have contested.
After signing for the club in 2020, she was an unused substitute in their first final against Wolfsburg a few months later, while her early injury kept her watching from the sidelines against Barcelona.
That didn't stop her from celebrating, though, with a video of Carpenter in a leg brace hopping across the field going viral.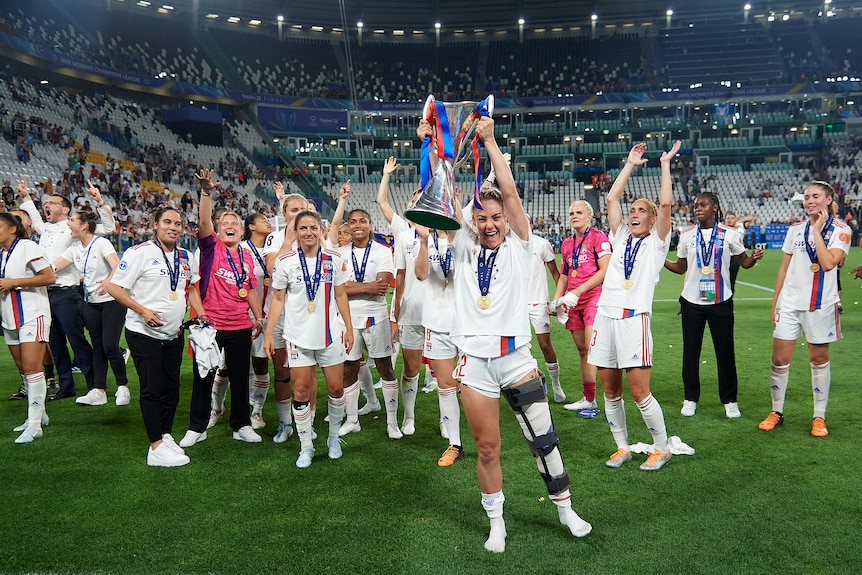 "I did witness the goals, which was really nice, I was celebrating as much as everyone else," she said.
"I didn't really think about my injury or my knee, you know? I knew that was done. I knew I did something bad. I was just in the moment and celebrating with the team."
Carpenter's rollercoaster year has paralleled that of Lyon, who have had other major injuries to contend with.
Inaugural Ballon D'Or winner Ada Hegerberg took two years to return to action following complications around her own ACL tear, while American striker Catarina Macario and Dutch midfielder Danielle Van Der Donk have also been rehabbing knee injuries alongside Carpenter.
However, the time spent away from the field appears to have given Carpenter a new energy, and she's even more determined to make up for lost time.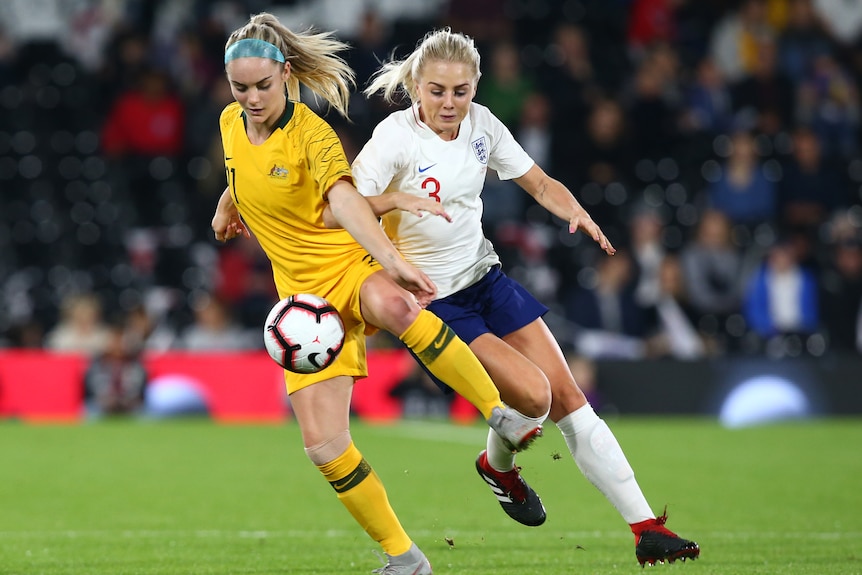 "I honestly feel stronger than before on the ball [and] on the field; faster, as well, which is also really cool," she said.
"We had some ups and downs during the season so far. We've had a lot of injuries early on last year. We had to grind out results sometimes, even if it wasn't pretty.
"Now we have most people back from injury [and] we have a very strong squad. In this last part of the season, everyone's feeling fresh and really, really ready to go."
Lyon face Chelsea tomorrow at 4:45am AEST, while Paris Saint-Germain take on Wolfsburg at 7am AEST.