Ford unveiled its newest electric vehicle, a new MEB-based electric SUV using a familiar name, Explorer.
Ford has an aggressive plan for the electrification of its European offerings. By 2024, the Blue Oval plans to offer eight distinct electric vehicles, requiring seven new models besides its first EV offering on the continent, the Mustang Mach-E. Today it unveiled its first new vehicle, an all-new Ford Explorer, based on the Volkswagen MEB platform.
Confusingly, this is not what many would consider a traditional Ford Explorer. In fact, it is sold alongside the traditional ICE/hybrid ford Explorer, which is the company's longest-lasting nameplate. The new electric Explorer is significantly smaller and is a complete redesign, though the design cues from its larger sibling are certainly apparent.
Ford did not release complete specifications for the vehicle but is expected to do so in short order, considering the new EV offering is set to hit the roads of Europe late this year or early next. Ford will begin production of the electric Explorer this summer.
Ford did share two specifications about the upcoming vehicle, and much more can be hypothesized based on the Volkswagen ID.4 platform it is based on. Ford aims for a max range of 500 km (310 mi) and a 10-80 percent charging time of just 25 minutes. The Explorer will likely be available in both front-wheel-drive and all-wheel-drive configurations, much like other MEB vehicles, and should have a base model with roughly 200 horsepower, much like the entry ID.4.
"Explorer is a trailblazer for a new breed of exciting Ford electric vehicles. Steeped in our American roots but built in Cologne for our customers in Europe, it is road trip-ready for the big adventures and fully loaded with everything our customers will need for their daily drives," said Martin Sander, general manager of Ford Model e, Europe.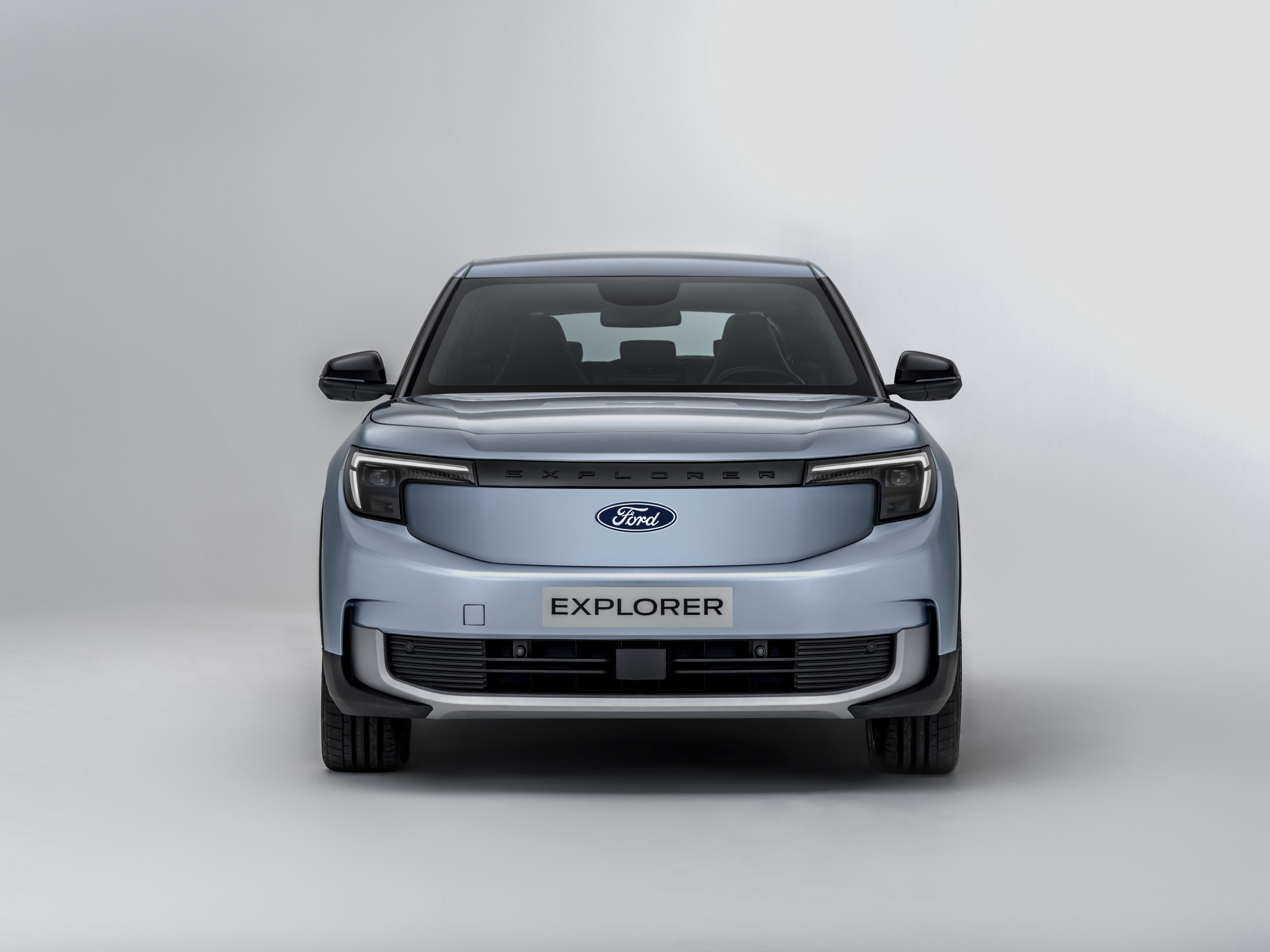 It should be noted that, besides the platform, the American automaker has done a lot to differentiate itself from its VW step-siblings, and there is good reason to believe it could be the better-selling vehicle. Foremost, Ford's design is far more muscular, aggressive, and angular, taking numerous cues from the larger Explorer. Further, the wheels have been pushed apart, allowing maximum interior space. Lastly, Ford's interior design has remained true to form and looks much more "Mach-E" and significantly less "ID.4." This is most noticeable in the portrait-oriented center screen and smaller landscape driver's screen.
Ford did not release pricing information for the vehicle but is expected to place the new Explorer between the €61,650 ($66,454) Mustang Mach-E and the hybrid Kuga (European version of the Escape), starting at €36,900 ($39,775).
The next EV Ford is expected to reveal as part of its European lineup is an electric variant of the Puma crossover, which for Americans, is a smaller version of the Ford Escape. As for its North American lineup, it is known that Ford plans to release another electric truck, but very few details have been revealed about the potential F-150 rival.
What do you think of the article? Do you have any comments, questions, or concerns? Shoot me an email at william@teslarati.com. You can also reach me on Twitter @WilliamWritin. If you have news tips, email us at tips@teslarati.com!
Ford unveils electric Explorer in Europe