Every Monday morning, Anika Stajcic rises before the sun. She puts on training kit and wakes up her body on the way across Sydney to Macquarie University Sports Fields. Sydney FC training starts before 6am and finishes just in time for the "bit of a trek" back to the west, where the 17-year-old striker completes a full day of school, homework and the whole shebang.
Tuesday looks the same. Wednesday does not feature the morning training slog but there's one at school in the afternoon. "Thursday we do double," Stajcic says. "So we have at-school training and then straight to Macquarie after school. And then Fridays we do gym here at school and then we do double again – school training and then Sydney after that."
The weekends are match days, and then it all starts again. While she is doing year 12. And undertaking school captain duties. You get the picture – it's a lot. But only a lot will do for Westfields Sports High School. Only a lot will get you places in football. And it is probably why this talent factory was the education facility of choice for past and present Socceroos like Harry Kewell, Jason Culina, Aaron Mooy, Mat Ryan and Miloš Degenek.
Stajcic is following in the footsteps of high-profile female graduates including Matildas Ellie Carpenter, Alanna Kennedy, Kyra Cooney-Cross and Courtney Nevin. She herself has just been in Kyrgyzstan with the Young Matildas, who scored 20 goals and conceded none in their first round of Under-20 Asian Cup qualifying, and is utilising her sizeable workload at the international level.
"It's not really a fluke," she says. "We put in the work and it's definitely helped. We were doing double sessions a day in [Young Matildas] camp in Melbourne and, having done this pretty much my whole life, it makes it a lot easier. When everyone else is tired and fatigued and can't do it anymore – or getting injured – the Westfields kids are usually the ones that can keep pushing through it."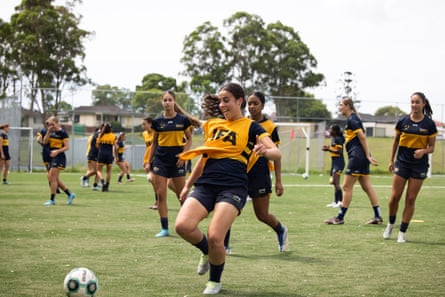 Of the 104 young men and women named across the most recent Young Matildas (under-20), Young Socceroos (under-20), Junior Matildas (under-17) and Joeys (under-17) squads, Stajcic is one 20 current or former Westfields Sports High students. Kory Babington, head of the school's football program, says the high representation is no accident.
"Stability has been a core foundation along with the school just wants what's best for the players," Babington says. "We pride ourselves on how many kids we can help have careers. There are no hidden agendas. There's no 'three points on the weekend is the most important thing', because it's about the kid. We're constantly driving the kids. We have a good mix of old-school values of hard work, and honesty to the players."
What does that look like? "Just in the way we question kids in regards to maybe their commitment level," he says. "If they're sick or tired or sore and they want a session off, that's OK, but we've just had 20 kids go to national team camps or tours, and that rarely comes out of those kids' mouths.
"We've had kids in the past who have a catch-up game with the A-League Academy on a Wednesday. They'd be in the gym at midday doing their legs, which some people complain about. Then they'd do an open boys session, which is flat out here, and then they'd go to the club and perform. They're the same kids who go to the senior men's set-up six months later and who are winning the fitness testing. It's not luck."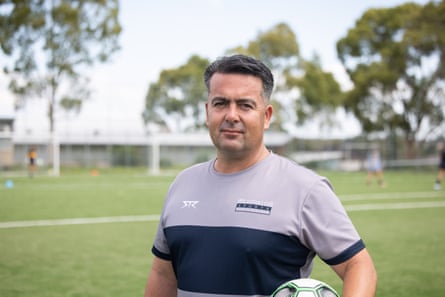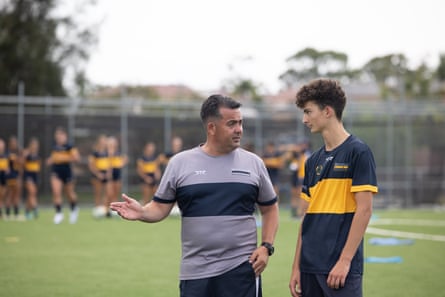 If it wasn't already obvious, the focus is on building players who are both durable and technically sound. More than that, both Babington and the school's principle, Andrew Rogers, describe a "holistic" approach with a "balance between the sport and academics". One which allows for some missed classes during training but ensures they are offered avenues and encouragement to catch up, and which has an in-house sports psychologist and education about healthy food choices.
Rogers has been principal since 2019 but at the school since 2004 as a teacher and then deputy principal. Back in the day, a teenaged Mat Ryan and Bernie Ibini sat in the back row of his modern history class. "I don't think they remember much modern history," he says, but follows his banter with a summation of the problems faced by talented young footballers – namely that they are being lost to academies and clubs before they can complete their a formal education.
"We've got some of the best athletes this country is probably going to see, and we don't want to make them choose. We want to support both sides of sport and education, and we think clubs should be at the very least supporting students of a school age to be in school."
The whole operation does not occur in a vacuum – the staff have strong links with elite set-ups. Until recently that included Young Matildas coach Leah Blayney and goalkeeper coach Brody Crane, who previously held roles with the Young Socceroos, Young Matildas, Sydney FC and Western Sydney Wanderers and is now the senior academy goalkeeper coach at Western United.
Former students and A-League Men players Jason and Glen Trifiro are now on staff and Babington, who joined from Endeavour Sports High School in 2017, replaced current Young Socceroos head coach and Olyroos assistant Trevor Morgan. Some graduates have been leaders in women's coaching, including Heather Garriock and Catherine Cannuli, while fellow former Matilda Sarah Walsh is Football Australia's head of women's football. The result is a vast network of contacts within Australian football and means Sydney-based A-Leagues and NPL clubs are flush with Westfields students.
One is year 11 student Tiago Quintal, who represents Sydney FC's Under-20s NPL side and has played NPL 1. The 16-year-old attacking midfielder is recovering from a back injury but was part of the Joeys squad which contested last year's Under-16 Youth Championship.
"Indonesia was my first tournament," Quintal says. "That was good, but it wasn't good at the same time because we didn't do that good."
Quintal did his primary schooling down the road at King Park Public, from which students (Carpenter and Mooy both started there) undergo regular training with Westfields to build a technical base for ease of transition to the high school program.
He recently trialled in Europe and spent a fortnight at Lyon's academy. "Seeing the facilities there, it's just amazing, the amount of money they put into it," he says. "You've got six-year-olds coming in and training at Lyon and then it's just life for them.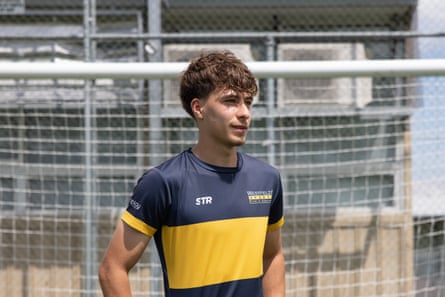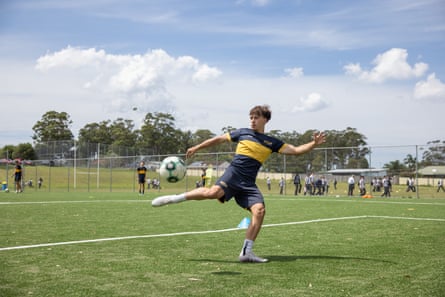 "Other players my age were around the same level, but once they start getting older they start becoming very, very, very good. When they get to 18 and 19 years old they start to really separate from over here in Australia.
"For the past few years, training three or four times more than every other kid has really helped a lot. Technical sessions, even if it's just a simple technique of lacing a ball, just keep practising and practising. Then in games some players may not be able to do that but we can do it every time."
Quintal's main challenge – aside from trying to stay on top of mathematics while regularly missing class – is his small stature, and is focusing on becoming physically stronger so he can establish himself in the senior NPL team.
Stajcic is aiming to impress Sydney coach Ante Juric and absorb all she can from teammates, some of whom are yet more ex-students in Princess Ibini, Jada Whyman and Taylor Ray.
Once her HSC is done and dusted she hopes to study either sports science or communications at university while also making progress with the Sky Blues and national teams.
And she has a favourable familial environment – if the name sounds familiar it is because she is the daughter of Alen, the former Matildas and Sydney FC women's coach who is now set for a World Cup campaign with the Philippines women's national team.
"He was a teacher at our rival school, Hills Sports High School, so we always have good feuds – and my brother goes there now so it's even worse. But no, he's a great coach and great person. We're very lucky to have him."
Stajcic spent Covid-19 lockdown with her dad, which meant regular kickabouts, and whenever he is home they head to the park, often with friends and Alen's assistant coach Nahuel Arrarte.
"When we're on the field, he's not my dad. It's good, I like it," she says. "I like someone harsh on me, always on my back. I think that's pretty important.
"I'm pretty resilient. I've never made Junior Matildas and I've only just started making national teams. I guess I like having a point to prove, and just, you know, showing people 'you should have picked me'. I like being the underdog and having to prove myself."